If your organisation has purchased bulk licenses, you will receive the activation link from your organisation.
When you have received a license code or purchased a license before signing up, you need to attach it to your account by logging in to the Teacher Dashboard. If you don't have an account, please see the article How to register for a teacher account.
see: I received an activation link from my organization/School

If you have a license key, click the Enter license key: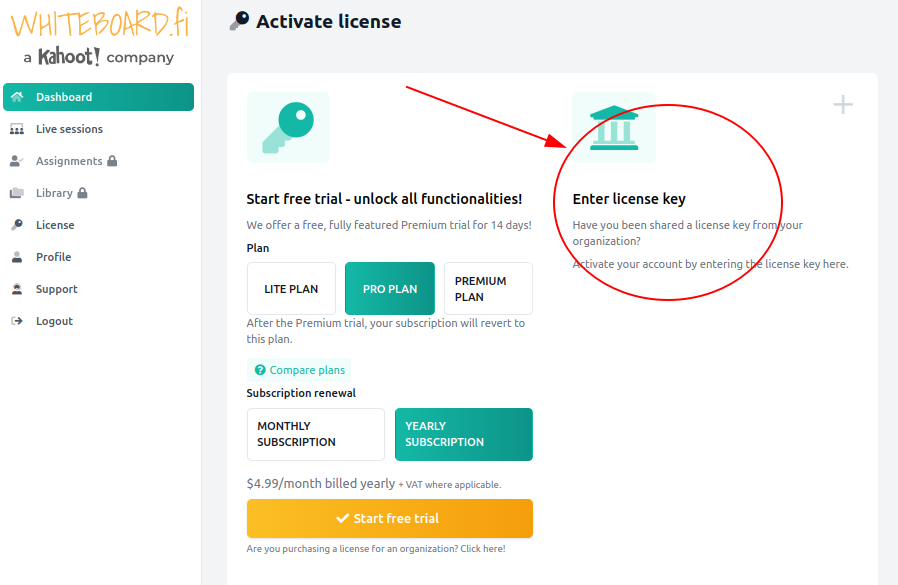 Enter the License key provided by your organization, and click Activate License:

If the license is valid, it's activated immediately and you can start using the Lite, Pro or Premium subscription features!
If you have received an activation link from you organisation/school:
Please use the activation link to set up your account by following the instructions behind the link.
Insert the requested information on the activation page and confirm the registration email that is automatically sent to the email address you have entered.
If you do not receive the confirmation email within a few minutes, please check your junk mail folder.
You can also contact support for further assistance.
By Signing in or registering from this page will link the license automatically to your account.