If your organization uses Clever.com you can easily log in to Whiteboard.fi.
Clever single-sign-on to Whiteboard.fi
You can now use your Clever account with Whiteboard.fi. Simply choose the option to log in with Clever, or register a new account using Clever at
https://whiteboard.fi/register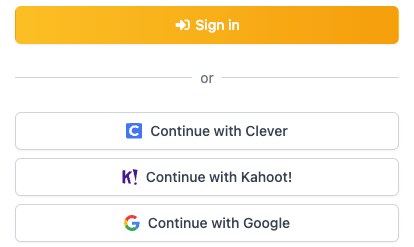 Setting up sessions and finding your Clever classes/sessions in Whiteboard.fi
To configure sessions and locate your Clever classes/sessions in Whiteboard.fi, you can begin by initiating a new Clever session and selecting the appropriate Clever class from the provided dropdown list. After establishing a session, your Clever sessions will continue to appear in the dashboard as long as they are active. Refer to the following comprehensive instructions for more information.

1. Start a new session in your teacher dashboard
2. Choose the join method Clever Only
3. Click the Select Clever class drop-down menu
4. Select the desired class to use for the session
5. Start the session
Launch Whiteboard.fi from your Clever library
After successfully connecting your Whiteboard.fi account with Clever, you can launch Whiteboard.fi directly from your Clever library without the need to log in to Whiteboard.fi separately.

By joining directly from Clever, your students can access your active classrooms in Whiteboard.fi instantly.
Individual student whiteboards will appear in the room, and students joining are automatically authenticated through Clever. No need to share a room code or keep guessing if unauthorized students join the session.