My school has purchased a plan for multiple users, and now I want to administrate and see who is using the plan
To become an administrator for the license, please do the following:
Create a free teacher account using the activation link sent to your organization (unless already created).
Contact our support team and provide the email of the user who should be added as an admin.
Once we receive this information, we will add the specified user as an administrator to the license. the administrator has the ability to edit users on the license.
Please note that only one administrator can be added per license.
Once an administrator account has been added, the license can be managed in the teacher dashboard, under "License"
To manage users using your teacher dashboard, follow these steps:
Log in to your teacher account.
Navigate to the "License" section.
Locate the "Edit" button, which is represented by a green pen symbol.
You will see a list of all the users who are currently on the license. From this list, you can also remove users as needed to accommodate changes in staff.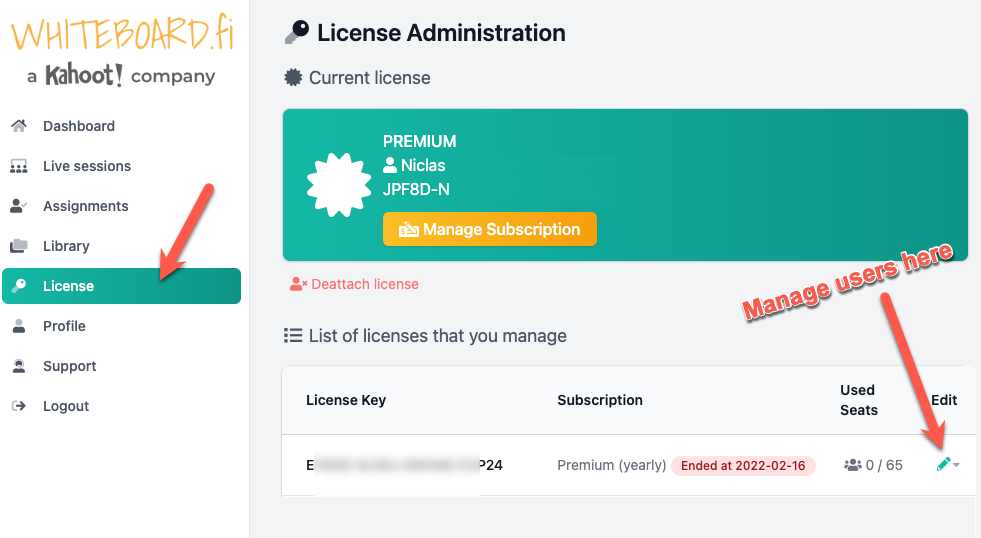 If you have any questions or need assistance, please reach out to our support team at support@whiteboard.fi